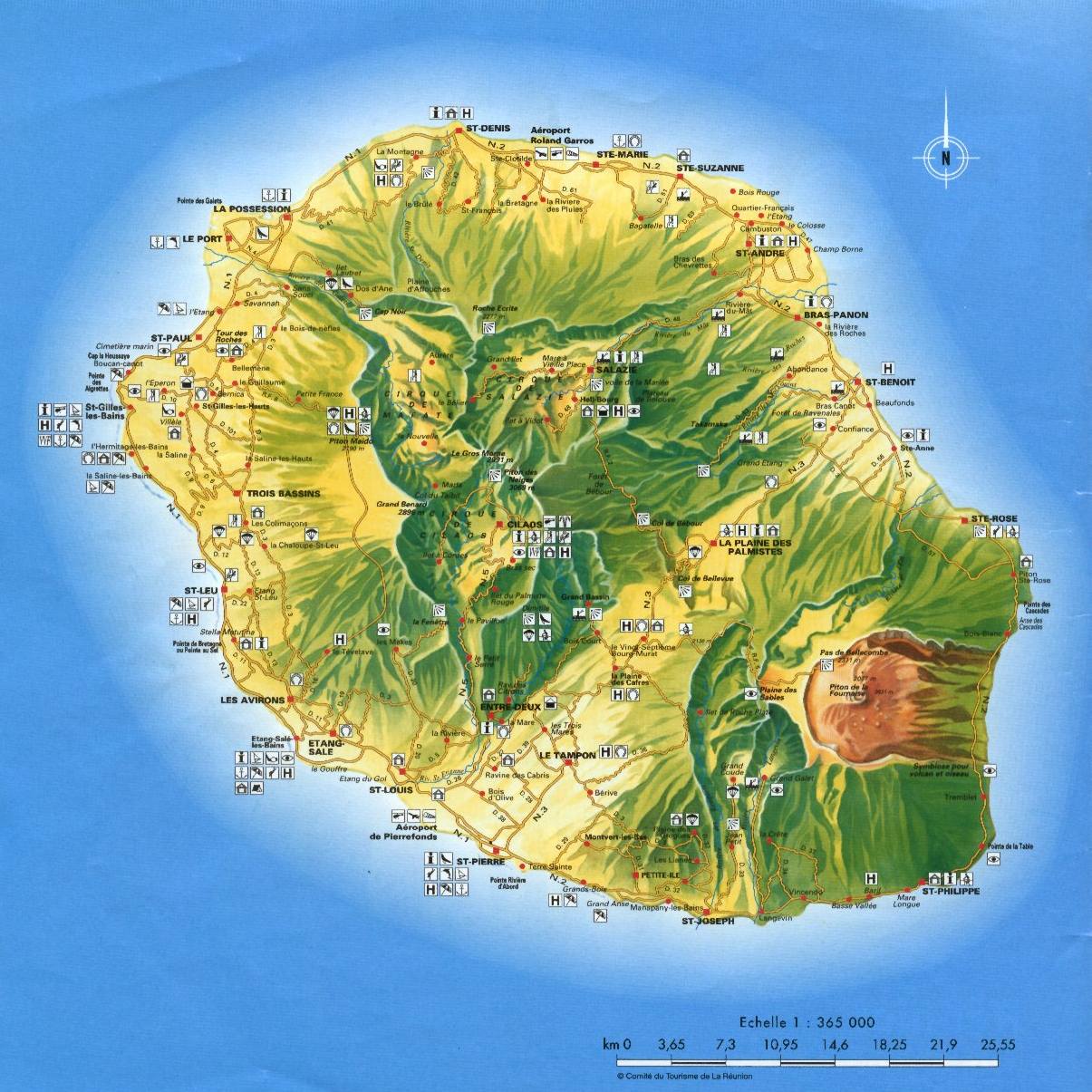 What to expect on La Reunion?
La Reunion is an excellent Island for hiking, canyoning, diving and all other kind of outdoor activities. All different levels in all sport activities are offered which makes it interesting for everyone.
The nature and the amazing scenery are unique in the world and the location in the Indian Ocean makes the climate very tropical also. La Reunion is still very untouristy, but as it's part of France it is equipped with all European infrastructure.
But it is NOT an ideal Island to make vacation with our family.
Why this?
<![if !vml]>
<![endif]> There are no typical family activities – it's all nature
-> when it's raining there <![if !vml]>
<![endif]>is nothing to do. And it rains quite often
The Hiking tours are quite difficult, because the terrain is very steep<![if !vml]>
<![endif]>
There are not so many swimming areas, because the water is very rough
<![if !vml]>
<![endif]> It's a l<![if !vml]>
<![endif]>ong flight from the main European airports (Frankfurt 11h plus stopover on Mauritis)
Driving on La Reunion takes time and has a lot of steep curves –> sickness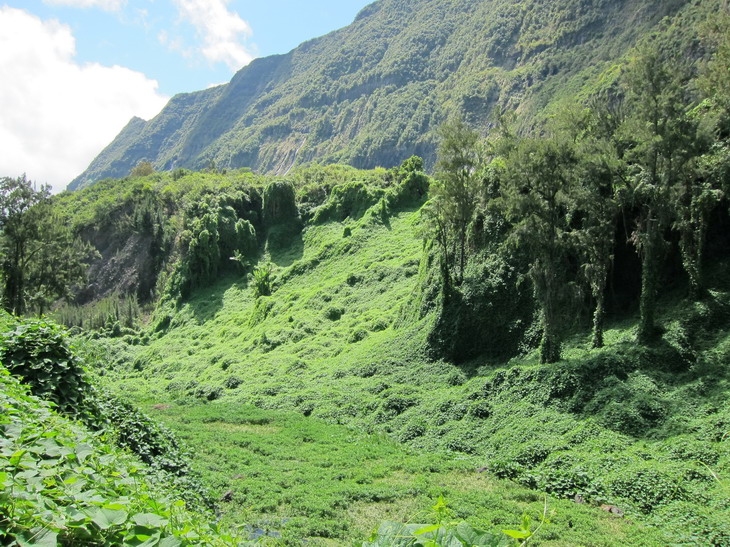 How long to stay?
That all depends what you are planning to do. We made a complete round trip with some hikes and some days at the beach in 14 days which is the limit if you want at least to see most of it.
There are some excellent 3-7 day hikes in the inner island to places where you will not be able to go by car. So you can easily spend 3 weeks when you also want to explore the amazing inner wildlife, basins and gorges.
Threats and diseases ?
La Reunion is a very safe island with nearly no crime at all.
Nature wise there are no deadly and poison animals like spiders or snakes.
So a perfect country for exploring the nature
When to go?
Well don't travel during Cyclone time. Best time is September/October because of less rain and no main tourists season.
What you should keep in mind.
La Reunion is a French Arrondisement, which means it belongs to France. This you will recognise a lot. With the traffic and driving stills, the garbage lying around sometimes , the language – nearly no English is spoken (no problem in the west but no chance in the east). Everything is written only in French and all tours are in French!
BUT tourists are very welcome and invited, not like in France only accepted.
General Hints
è Official Homepage of La Reunion
è make the tour clockwise! The weather is nearly always bad at the East side. So you will drive everyday into better weather.
è Entre-Deux, St Pierre, St Joseph, and all the other big towns are not worth visiting
è St Denis – honestly not worth it
è Buy some fruits at the little market stand beside the street – excellent
è Spend some days in the beach area around St Gilles with snorkelling and relaxing
St Denis Airport to Mare a Vielle Place/Cirque de Salazie (1,5h)
From the small airport we took the N2 to Mare á vielle Place, a little bit further from Salazie into the Cirque de Salazie. Here is a very nice located Hotel with an excellent view into the amazing mountain scenery. (Hotel Le Domaine des Songes)
The Hotel has a restaurant with real nice food, but also in the village itself you find a very nice small restaurant, too.
If you land early in St Denis you can make a small trip to the Basin de Boef with a 1h return hike around here before continuing to St. Salazie. Also an excellent spot for swimming under a waterfall.
Mare a Vielle Place – Bourg Murat (2h)
If you have one day in this area don't miss to visit the little creolean village Hell-Bourg. This would be also the starting point for many hiking tracks. In Hell-Bourg visit also the Villa Folio which is located beside the centre. There is a little office de tourisme in the second floor of the market building.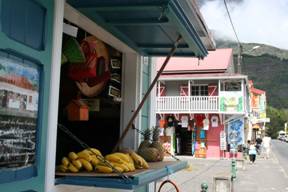 On the way further to the next stop in Bourg Murat you will pass la Plaines des Palmistes. Behind this village you will find the amazing forest Bebour-Belouve. A little but good street will wind up to a little hiking hut. Beside the street there are many possibilities for different hikes through the rainforest which are all well marked. The most popular track is the Tour de Fer which will end in an astonishing overview to the Cirque and some nicest waterfall of the ile. But to do this track you would need 4-5h, but worth doing it.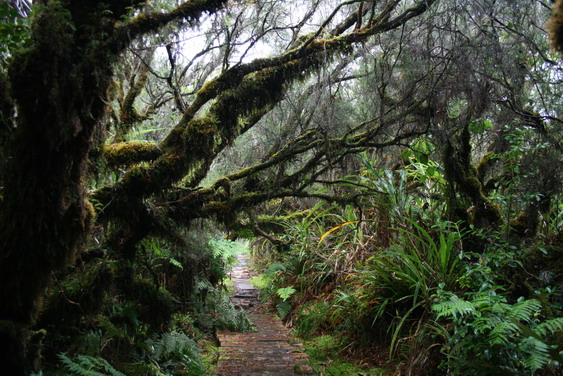 BUT be aware that the tracks are very muddy and not easy to walk. Also the walking times mentioned in most guides are normaly too short. Another track which is mentioned a lot is the Track to the upper Takamaka. In my opinion not worth doing it. The track is especially very muddy and not a round track.
If you follow now the main road further you will come to Bourg Murat which is a perfect place for a stopover. The nice Hotel Ecrin is directly at the main street. The restaurant beside Le Panoramic is also a very nice place to have diner.
Bourg Murat – Piton de la Fournasie (1h) – St Rose (2h)
One of the most popular spots in La Reunion is the volcano La Fournaise which is still one of the most active volcanoes in the world. The last breakout was in 2007. Therefore it is one of the must does (but personally not one of the nicest La Reunion will offer you). Most problem is the bad micro-climate of the 2600m high volcano, which means a lot of wind and clouds, which makes the hike up to the top useless. If the night was clear, than be there very early before the clouds will come, If the night is already cloudy, than have a nice breakfast and hope the best for later.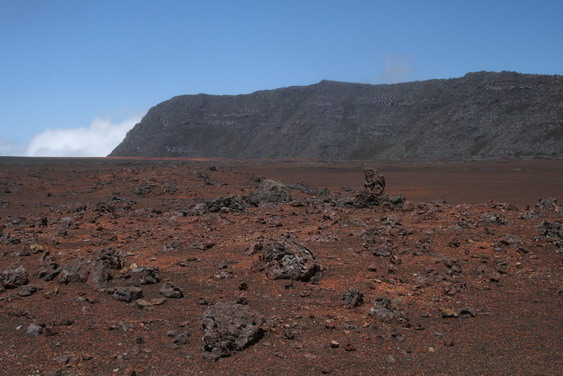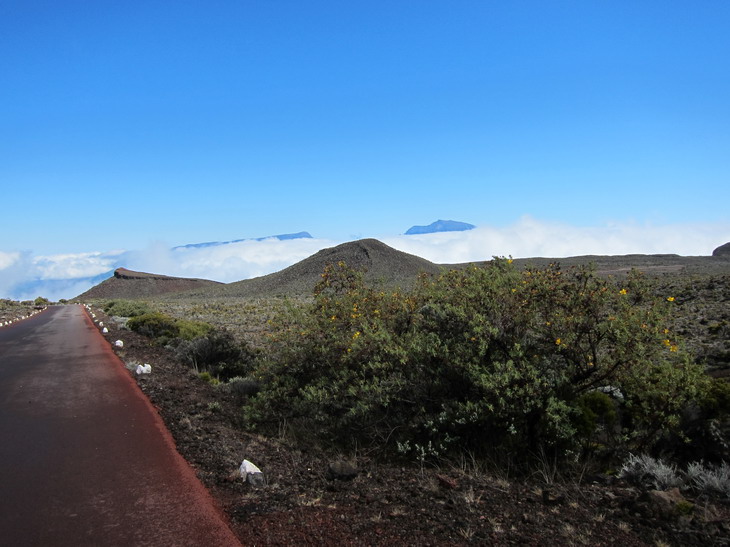 There is also a webcam which shows you the weather at the top. The best way to explorer the Vulcano is via Helicopter from St Gilles. For this visit: www.Corailair.de
After you finished with all the activities in and around the Fournaise it's normally enough time to drive down to the coast again, where the next good stop would be in St.Rose. We stayed in a nice Hotel with pool and breakfast outside named Hotel la Frounaise.
St Rose – Etang Salè les Bains (2h)
The ride would be quite short but there is a lot to see along the way. When you leave St Rose you will pass the little church Notre Dame des laves, the only house which was not destroyed during the volcano eruption. The lava path spitted just before the church, which makes this spot very religious.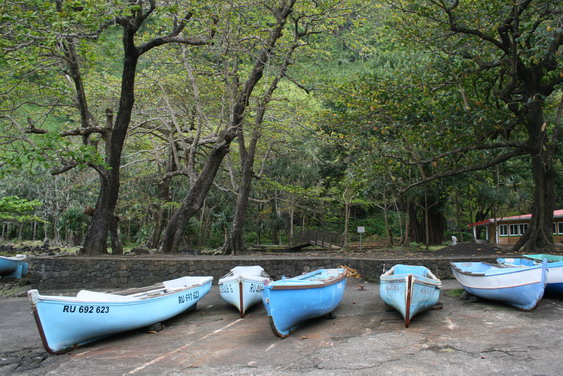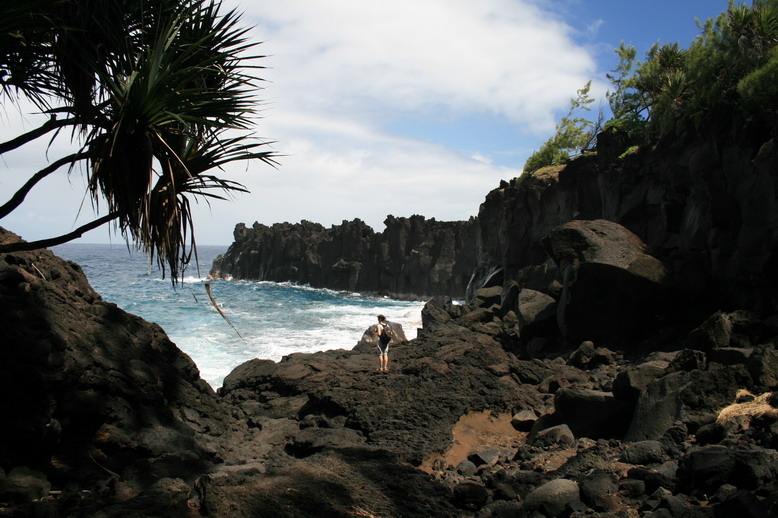 Than you pass the main lava fields which will show the size of the eruptions from the different years. Also don't miss the little coastline Pointe de la Table where you see the amount of lava which went down into the sea. This is also (like everywhere) a very nice picnic are but most interesting a fantastic walk on the lava field which went into the sea.
When you drive further on you will come to Langevin where you should drive up to the most beautiful waterfall of the Island: Le Grand Galêt. Spend some time to take a refreshing bat in one of the Bassins – simple great.

After this we passed St. Pierre to drive to the Hotel in Etang Salé les Bains, a nice beach and a really nice small village. The Hotel Floralys is a really good one with a big pool and a cosy Bar.
Etang Salè les Bains and around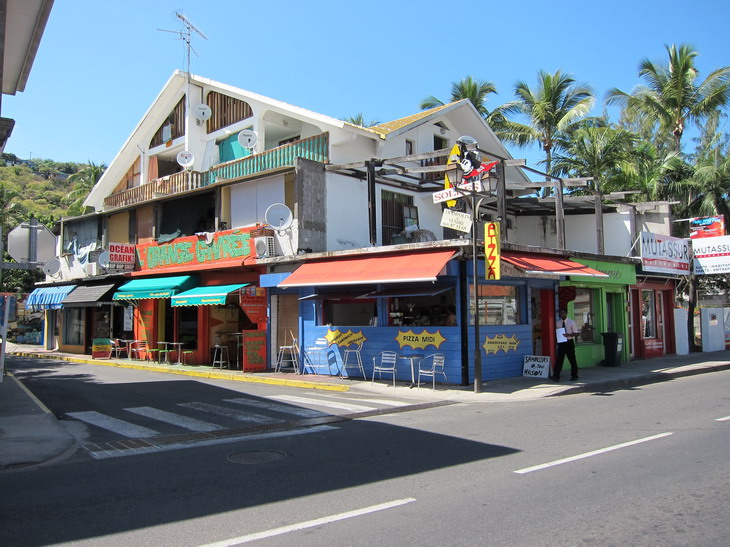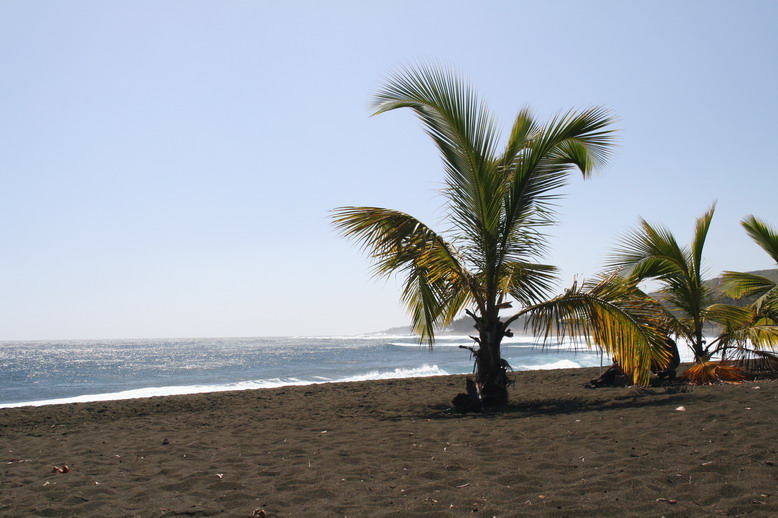 We spend one day in this sunny and warm area. You can explore a lot or just relax at the only black sanded beach on the Island. Don't miss the Turtle Farm Kelonia, the Blowhole Le Souffleur, a walk through St Leu. If you are more into hiking visit the Tamarin Forest behind
Le Tévelave. All kind of tours can be found here. A short one with a nice view and a walk through the Tamarin forest and the rainforest you can find at the parking just before the 10km stone sign at the street after le Tévelave.
Etang Salè les Bains – Cirque de Cilaos (2h)
Next stop of our trip was the village Cilaos in the Cirque de Cilaos. But before this we went up to an excellent overview of the Cirque called La Fenêtre, which is located 10km behind les Makes. If you plan going there, you really should be there at 8 o'clock. Because after 9am normaly the clouds will come in. Personally it's the best view you can get and access by car. After this we visited the creolean village Entre-Deux which in my mind is not the trip worth it. It's just another village with no other highlight, sure it's nice but the location of the village is just not on the way.
Going up to Cilaos takes 1h with a lot of narrow streets and curves. So be prepared. The village is bigger than expected with shops and Restaurants. We booked the Hotel les Chenets – I guess the best in town. For diner we can recommend the Sentinel for Creolean food and Le Restaurant in the centre were you get nice Pizza, Pasta or Salad for a reasonable price.
Cirque de Cilaos
This old volcano is a real amazing place to be, IF the weather will be good. Unfortunately this is just a gamble. But if it's good, than the views are spectacular. There are a lot of hikes you can do, where an overview can be downloaded here. On spot can be access by car (or also by foot via a nice track through the forest: here the GPS data) which is called La Roche Merveilleuse where you have a nice overview on Cilaos and the surrounding.
Another famous hike is the Bras Rouge where you have an excellent view.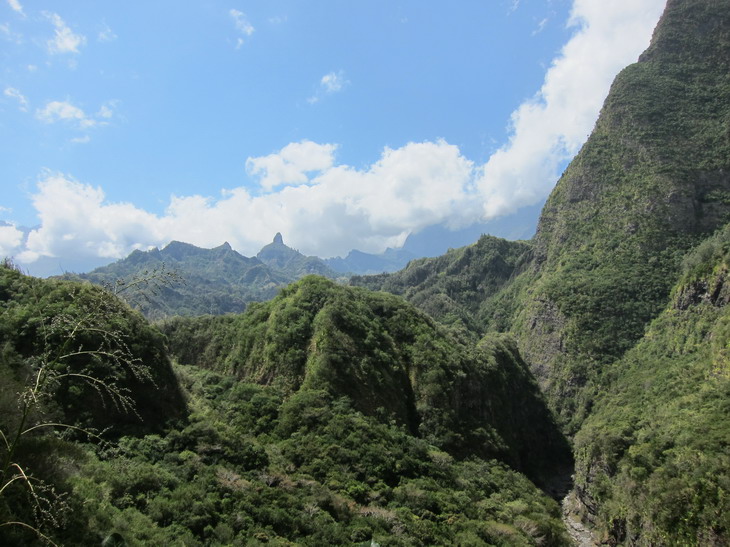 Personal hint:
Do the hike up to Point de Neige 3080m, the highest mountain on the Island. There is no easier mountain higher than 3000m I know to climb up (6h up 4h down)
Skip one night in Cilaos and make a reservation at the Hostel up the hill in the tourist Information. You only have good weather in the morning, which means one morning climb up – relax a little have nice diner at the hut, and next morning enjoy the spectacular view from the top and hike back down.
Cirque de Cilaos – Tévelave (2h)
Our next stop was Tévelave, where we've already been in the Tamarin forest. Also today would be an excellent chance to make a nice tour here. All kind of tours can be found here. A short one with a nice view and a walk through the Tamarin forest and the rainforest you can find at the parking just before the 10km stone sign at the street after le Tévelave.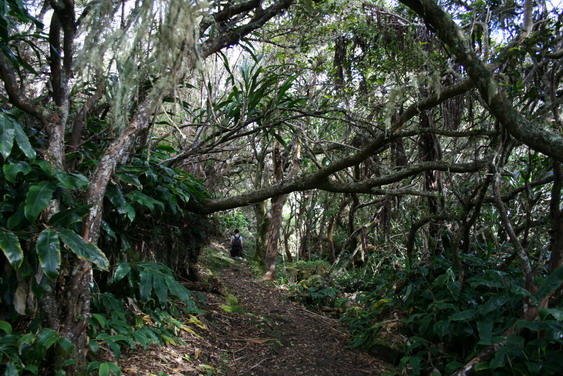 Before going to Tévelave you can also visit some other town like St. Pierre. But honestly the towns around this area, specially St. Pierre are dirty and old places. Nothing you would miss if you pass this town.
In Tévelave we had a kind of Gitê called Les Fougeres, but with a better standard and a nice bar and good restaurant. From the terrace you have an excellent view down to the sea.
Tévelave - Maido (1h) – Saline-les-bains (1h)
Maido is a must on La Reunion. From this high overview point you have a fantastic view into the Cirque de Mafat. There is a nice hike going up to an special view, where you can have a look into both Cirques – Mafat and Cilaos, opposite of the Piton du Niege at 2800m hight. The walk up there is always at the edge of the mountain and is easy to walk – always steadily upwards. Unfortunately we couldn't make it all up, so therefore not the whole tour as GPX data for download.

After this we drove down to the last stay. Saline-les-bains part of St Gilles – the always sunny beach coast of La Reunion. A lot of nice Hotels can be found here. We stayed at a really nice one - Le Nautille with own beach, nice bar and good restaurant, and nice pool.
Saline-les-bains
We stayed 4 extra days here to relax and enjoy the sun. A must do is snorkelling – normaly every hotel has the equipment for free. Also canoes are good fun in the afternoon to explore the lagoon.
We really can recommend a very nice Hotel directly at the beach called Le Nautille
Short trips can be done from here (some already mentioned earlier):
è Visit St Gilles during the afternoon and spend a night either only for a good diner or a long night in one of the clubs. For diner we can recommend the
è One of the best short hiking tours is Le Cap noire, which you find in every Travel guide. Either you can make a 2h round trip or simply walk 15min to have an excellent overview into the Cirque de Mafat.
è Maido is also one of the most attractive spots to access via car. Here you have an fantastic view into the whole Cirque de Mafat with perfect hiking tours
è Visit St Leu and the Turtle Park Kelonia
è Drive up to the viewing Point La Fenêtre behind the village Les Makes
è Have a Tapas Diner during Sundown at the Coco Beach in l'Hermitage
è AND what you must do is a Helicopter tour around the Island. Make the whole tour. The Heliport is at the Highway exit Saline-les-Baines and check under www.Corailair.de. A 45min tour around the Island costs 220€ and is worth the money. If the weather is bad and there is no sight they will shift the tour, so don't worry to be ripped off by flying and seeing nothing.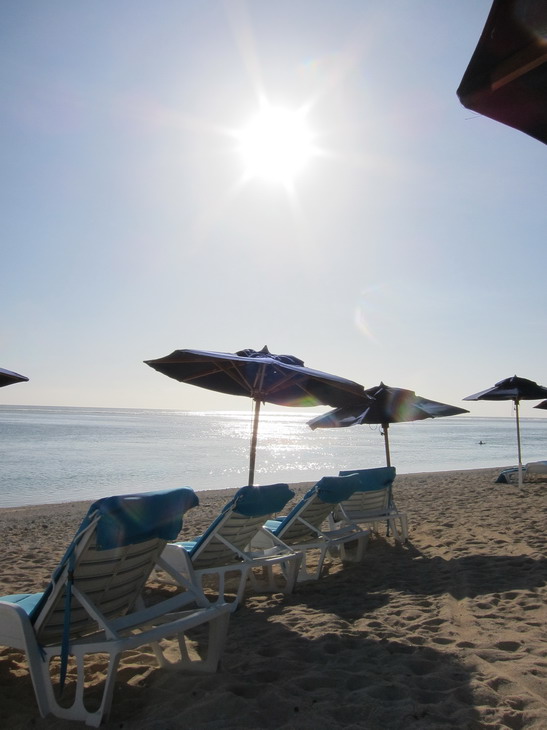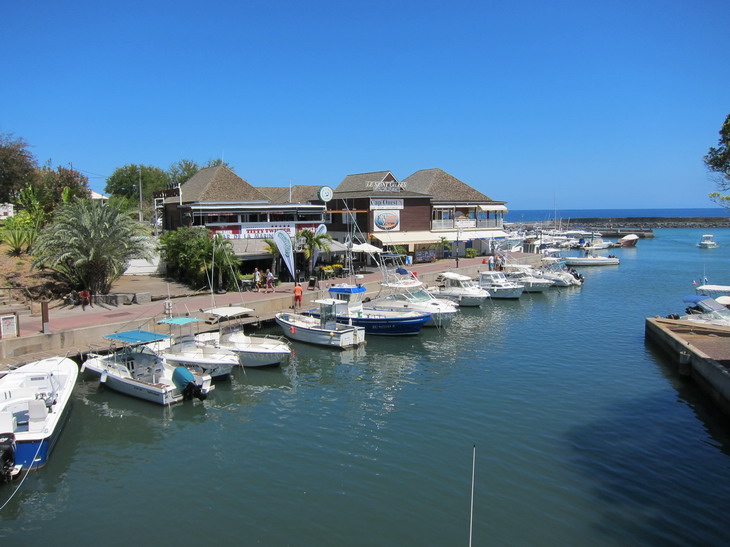 Mauritius
We spend only 2 days as stopover, so we do not have an overview around the Island. So therefore I have to be careful what to write now.
Mauritius is run by Indian. This you see everywhere (ragged houses) and smell everywhere (ragged cars). When you are in your Hotel it really looks like Paradise, but that's all it. When you come from La Reunion the impression is even worth.
Driving a car is not one of the best ideas because no directions are shown and driving is very chaotic itself ( and also dangerous ). But without a car you really cannot do anything. So you need a driver which is mostly recommended by the Hotel.
è So if you want to plan your vacation here get in contact with a really nice German tour guide living on the Island for 20 years now. He can organise you everything including an really nice apartment or Hotel. Have a look under Pigeon Tours
è As Hotel we can recommend Le Sakoa. A small but very exquisite Hotel with own beach, which can be booked also by the Reiseinsel Uttenreuth. But you definitely should book the sea view apartments away from the street.
è No real night life is yet available. There is a bar serving also food called 1974 which is 200m further having life music at the week-ends. Beside you have another nice lounge the Four Season.
è A very good restaurant is called Le Pestacore which is 1,5km at the beach further upwards near the Yacht harbour.
è In Grand Baie you will fine some nightlife and pubs and restaurants. Either get a Taxi or get a Hotel there J - don't miss the oldest Japanese Restaurant on the Island – the Sakura.
BUT NEVER walk in the dark. The criminality is quite high in general. Also as a women never travel somewhere or visit something alone!!!