Hints & General Notes
First question what to expect from Tasmania. If you look for some touristy activities then you are completely wrong in this country. This country is still down to earth and is just getting slowly to be more and more touristy. The main thing you do here is hiking. But the tracks are so great and various, that you will really love it. There is a brochure 60 great tracks available everywhere, which shows you from 10min walks to 6 days hikes.
Sometimes it was already a little bit too less tourist spots and other things to do, so that our 17 days were fine travelling around to see a lot of this country.
The information about the 60 great walks are available in the tourist information center or check under:
http://www.newzealandnz.co.nz/tasmania-great-walks/
Tasmanian Map
Click to enlarge
Money and costs:
Unfortunately Tasmania and Australia in general is really expensive. If there are activities to do they really rip you off.
A boat trip will be 100$ and the food is nearly double as in Europe.
Going for diner will cost 2 person at least 50$ and this was just a local spot for Tassies.
Therefore going with a Camper can make everything a little bit more cheap if you can cook in between by yourself.
Weather:
Be prepared that the weather in Tasmania is not really the best. Especially at the West Coast there can be a lot of rain.
At the east coast it is mostly better and warmer.
In the Cradle Mountain area there is 1 out of 10 days sun, so be aware that most time it's raining or cloudy there.
That's the biggest problem, because if you cannot walk, there isn't really much to do.
Check the official webpage: http://www.bom.gov.au/tas/
Best time to travel:
Either Spring or late summer is the best time to go there. At Spring time (October – November) the weather can be still a little bit cold.
During late summer you mostly have warmer weather but the trees and the grasses are already burned by the sun, so that it's not really green anymore.
Furthermore the Snakes are still more aggressive than in Spring
Which means the green fresh, less Snakes and Mosquito activity Spring time was the right time for us.
Snakes and Wildlife
The Wildlife is Tasmania's biggest value. You see the animals everywhere running around, which means you also se Snakes.
The last death of a Snake bite goes back to 1977. All three Snakes are extremely poisonous but are more scared of you.
But I must say I was scared too seeing the first snake disappearing in the bushes.
Camper, Car or Tent – what is the best option?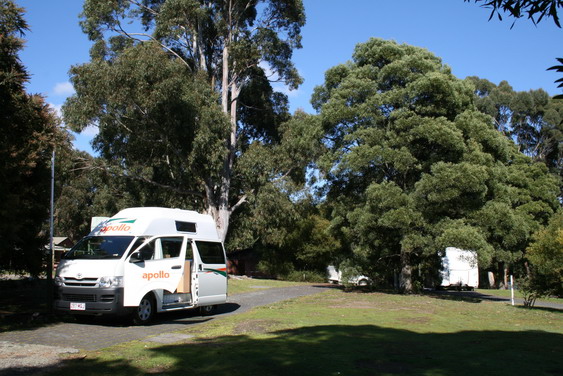 Well this is always a question how you like it best. We had a small camper which reduced our hotel costs and the expensive diner.
The small Camper made it easy to travel around the small country roads.
Also be aware that a lot of streets are unsealed and in bad conditions, which means that you would have problems going to some places.
But this also depends what you want to see and to do.
A 4WD car would be a good option is some places. But then you also have limited space. But there are great 4WD tracks around the country.
You can also reach places where most people are not able to access, like the Bay of Fire, Valley of the Styx, Mt Field or the Tarkine National Park.
A tent would be a little bit cold sometimes and not really practical when you travel day by day
Staying always at cottages or motels is also a nice option, because there are really fantastic ones around the country.
But you must pay 50$ at Camping sites for a cottage or around 80$-110$ for a motel.
Here one of some small Camping guides:
National Park fees
There is a 60$ pass for 2 month which is the you can get if you travel around Tasmania.
Hobart
The main link you find under.
http://www.discovertasmania.com/destinations/hobart_and_surrounds/hobart
HOTEL
- Most Hotels are really expensive 100$ plus. Some Motels can be found which are around 70$.
The one we stayed is called the Mayfair Motel and was one of the closest to town but located at the hillside, but really nice big rooms.
FOOD
- Most places are around the harbour and the Salamanca market. The cheapest one are the Irish pubs at Salamanca Market.
- Our personal highlight for a Fish Restaurant is the Drunken Admiral. The interior is made like a ship and the food is excellent.
- Here a nice restaurant link: http://my247.com.au/hobart/local
WHAT to DO:
- Stroll around the old city
- Salamanca Market – always on Saturday from 10am to 3pm
- Cruises are always available
- Sandy bay with it's Casino
- Mt Wellington – a must do.
With a amazing view around the area. To go there you can take your car (45 minutes) or take a bus starting in Hobart (23$).
On the way, nearly at the top you can make a 45min return walk to the Pipe Organ. The parking spot is called "The Chalet"
GPS / GPX data for your Navi for download: Pipe Organ Hike
Tasman National Park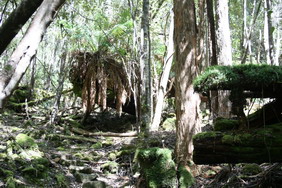 è this is the official pdf from the National park Rangers
CAMPING:
- There are some camping around. One also directly in Port Arthur which is nice located and well equipped and the next closer one in Nubeena directly at the beach also really nice.
HOTEL:
- There are a lot of cottages. The one we saw which seems to be really nice is at the entry of Port Arthur called Fox&Hounds.
FOOD:
- Not so many places around. Most you find in Port Arthur directly. Best one we found was the Fox&Hound at the entry of Port Arthur
- A Pizza place is located in the heart of Port Arthur
WHAT to DO:
This park has some Tasman Devils to watch. Best time to be there is during the feeding time 11am, 1.30pm and 5pm.
There is also a Kangaroo place where you can walk through and get really close to them. ( also a hand feeding event is possible )
- Eaglehawk Neck bay
Tasmans arch and devils kitchen can be visited here. Directly with a parking spot. The amazing pirates bay also very close.
- Tasman Coastal Trail (follow this link for the official pdf)
è Starting from the Eaglehawk neck bay there is a parking at the Tasman arch. There is a 5h return walk along the cost towards the Waterfall bay which itself is a 1h return walk, also easy walking for families. The next stop is the Waterfall Bluff, which is also an easy way. From here the Coastal Track starts and running up to some fantastic overviews of the north and south coast. Running through so different sceneries which make this track very interesting and special.
Here the GPS / GPX data to download: South Costal Track
The most famous attraction in Tasmania. The former prison colony can be visited here.
For us not an such interesting thing to do, but a must being here (according the Tassis).
- Cruises
A lot of cruises can be made around the coastal line. But you have to pay 100$ per person.
Freycenet National Park
The Park&Wildlife Service offers good information about all kind of activities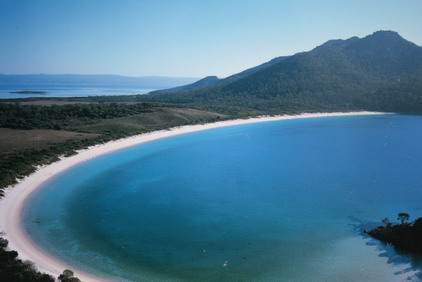 HOTEL:
There is only one lodge as we saw. But this Feicenet lodge looked really nice, but I guess it is also not cheap.
CAMPING:
The closet one is at the park entry directly. To register you have to go to the Visitor Centre. You get all kinds of sites.
The tent one with a beautiful view to the beach, the Camper sites with power, toilets and showers (16$ with power)
FOOD:
Nothing available here.
WHAT to DO:
- The main attraction is the Wineglass Bay.
There is a lookout walk 1,5h return or the round trip which is around 5h but really worth doing. Also a 3-day trip can be made here.
Here our GPS / GPX data from the 5h tour: Wineglass Hike
- Another short beautiful track is 15minutes away driving.
- Kayaking must be really great here. Rentals are available.
St, Helen – Bay of Fire
St. Helen was just a drive through station. The little village is a really little village. Some Take Away food but no really restaurant.
Some B&B are around but not real Hotel found.
CAMPING:
- There is no official Camping ground but a lot of free excellent camping spot directly at the Beach.
All spots with there own fireplaces (BYO wood) some with BBQ also.
WHAT to DO:
- There are some nice walks around St. Helen (check Visitor Centre)
- Swimming is excellent in the summer
- Bay of Fire
To get there you have to take a 30km unsealed road, which we didn't do.
At the Bay of Fires there is no real hike possible only at the beach up and down..
The main attraction is the 3-day walk of Bay of Fire which is really expensive but I was told to be also really nice.
On the way to Launceston – Blue Tier Forest
There are some nice walks along the way. A must stop should be the St. Columbia Falls and a short walk in the Blue Tier Forest (you see some signs on the way through)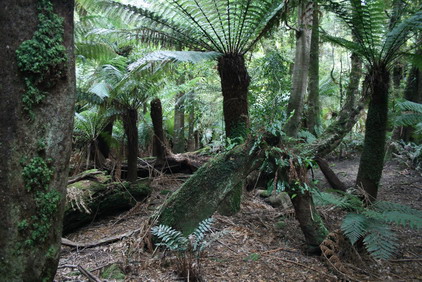 A nice page incl. map with some walks: http://www.bluetier.org/images1/walkmap.JPG
Launceston – Tamara Valley
We made two stops, one in in Tamara Valley behind Launceston and the other one in Burnie.
Launceston is the second largest city in Tasmania. Lots of shops, restaurants and Bars, but nothing really to watch.
Some nice walks around the river in Launceston but that's it.
The Tamara Valley is famous for it's vineyards, which some can be visited. A nice stopover spot is Beauty Spot just 30km away from Launceston.
Here are some Camping areas and a lot of Motels directly at the Tamara Riverside.
CAMPING:
- There is a Camping spot of each side of the Town, directly at the main road. Nicer places can be found towards the coastal line or Beauty spot, which is the closet one to Launceston
FOOD:
- Nice Restaurants all over the town and the suburbs
WHAT to DO:
- For us it was only a stopover. So not so much we can say, and also not so much we found in the Lonely Planet.
Narawntapu National Park
Parks of Tasmania Information pdf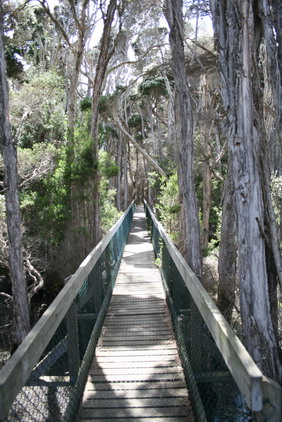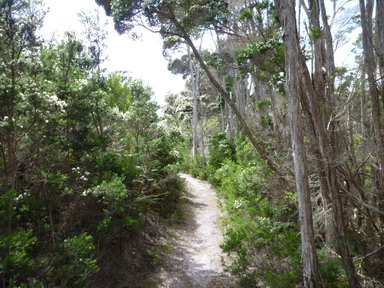 This NP is 30minutes from Beauty point further west. An unsealed road leads you there, but no problem with a 2WD car.
This little park is directly at the beach side and popular for it's Wildlife. All kind of Tasmanian animals can be watched here.
100m landside there is a fantastic swamp area and also a bush walk (2,5h) ending in a little overview hill.
Take a little bit more care about Snakes in this area. Here you can download the GPS / GPS data: Narawntapu Hike
Devonport – Burnie
Devonport was just a drive through. Little beach town with a nice little town centre.
At the beach site there is a lighthouse with a parking spot, where you have a nice overview of the area.
To Burnie it's just 30min drive on a coastal highway. Burnie has some more things to do but is also just a little beachside town
CAMPING:
- There is a nice one near the lighthouse in Devonport
- In Burnie there is only one 3km out of town but nice and quite located
FOOD:
- We had great diner in an Italian Restaurant called Rialto Restaurant in the Wilmot Street.
- Close to the Italian place there is also a good looking local eatery with fresh fish and good prices.
A Guiness Bar is also in town and a excellent fresh Noodle Take away, which you find in Wilson Street – city end.
WHAT to DO:
- The Park
According local information it supposed to be the nicest park in Tasmania, with some nice walks.
From outside it looks small but it's quite big behind.
- Food tasting
Cheese factory where you can try cheese which is free for tasting in the shop.
Whiskey Distillery. You can make a tour there and get only Tasmanian Whiskey and I must say, it's a really good one.
- Penguin watching
During sunset you can watch the little Penguin coming "home". This watching area is at the Visitor Center.
On the way to Cradle Mountain
If you have time than pass by this great Canyon. There is a superb free camping at the picnic are.
You have the possibility to make a small walk or a 4h tour to the canyon
A big cave area which one can be visited. The special thing about this place are the Mexican Glowworms which makes this place unique.
Cradle Mountain
Here the official Park&Wildlife Homepage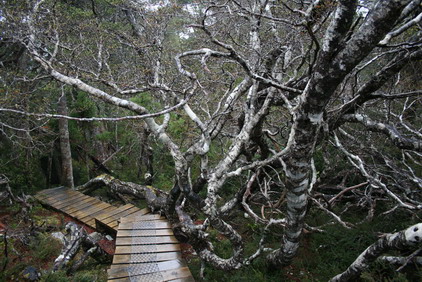 CAMPING:
- There is one really nice Camping directly opposite the Visitor Centre. A restervation is highly recommended in the summer times
HOTEL:
- Some cottages and a really nice motel, the Waldheim is available here. Better make bookings in the Summer times
- Or you can rent some nice huts
FOOD:
- At the Waldheim Lodge it looks like you can eat.
- A small supermarket in the Camping reception
WHAT to DO:
- Hiking around Cradle Mountain
Well, this area is famous for Hiking around the famous 1500m Cradle Mountain. There are some different hikes.
All information are available at the Visitor centre. Also the famous Overland track does start here.
But only 80 registered persons per day are allowed to enter the track.
The guided tours are around 2000$ for the 6days, which is a real rip off - again.
There was a really nice hike (4h return) around the area of the Cradle Mountain.
You will pass some lakes´, wake on the Overland Track and pass some nice Rainforest area.
Here the GPS / GPX data as download: around the Cradle
On the way to Strahan
On the way to Strahan are the highest waterfalls in Tasmania (100m). There is a 3h return walk to the falls through the rainforest where you walk
on the former rail tracks of the mining company. This was a really nice hike, especially after a good rainy day.
Strahan
Strahan is, according the books, the nicest village in Tasmania and I must say comparing the other villages it is.
This is a typical touristy spot with it's harbour and the well renovated motels, bars and shops. Just a little nice holiday town.
- There are two campgrounds near the centre.
HOTEL:
- A lot of motels, cottages and B&B are available. But you really need a booking in the summer time
FOOD:
- In the centre there are some places from Cafes to Harbour Restaurants. There is also a really good Pub near the Hammer Restaurant.
- Regatta Restaurant at the other end of the bay is a perfect spot to go. Here you mostly find locals and therefore the food is down to earth, too.
Great fresh fish and Chicken in various styles in big portions for a good price.
WHAT to DO:
- The most popular thing to do is a cruise along the Gordon river – a World Heritage spot. You can either take the Catamaran Gordon Cruises (100$ including Lunch or diner – departing 8:30 or 1:30) or a Sailing boat. But the sailing boat is not going so far into the river, but you can make a Kayak ride or relax during fishing at the Sailing Boat, with only few people including a nice lunch.
- You can also take the old steam train running through the beautiful riverside
- There are also some walks around this area.
St. Claire – The End of the Overland Track
Unfortunately it was raining the whole day, which is also the normal case, what we hear.
So there was nothing to do for us, just the little 1h round trip, which was ok.
CAMPING:
- There is a camping ground which is ok. The location directly at the lake was really nice.
HOTEL:
- Some motels and cottages around
FOOD:
- There is a nice restaurant at the main road when entering the park.
- There is also a restaurant in the park itself, but is only operating in summer
WHAT to DO:
- Hiking is the one thing you do here. You can make a really nice 5,5h circuit track with a fantastic panorama from the 1200m high plateaux.
You just need luck with the weather.
Mt. Field National Park
This park is popular for the famous Russell Falls and the Mt. Field itself. Be aware that going to the summit is only possible with a 4WD car.
From the park entrance there is a 16km gravel road with a lot of water erosions which makes this small steep road difficult for Campers.
Even with our small Camper we turned after the first 2km.
CAMPING:
- There is a Camping ground at the Park entrance
HOTEL:
- Some cottages and nice B&B are available at the park entrance
FOOD:
- There is a nice café at the Visitor centre
- In the village there are some cafes but nothing special
WHAT to DO:
Here you can visit the famous Russell Falls. Don't know why they are such famous.
They are really nice, for sure and the main point is the easy and 15min short access.
- Tall Trees
Further 30min there is another highlight of this area. The Tall Trees. These trees are one of the tallest in Australia.
The little circuit takes 30min.
- Mt Field summit + Rodway Track
There is a Rodway Range circuit track which is around 5,5h km and runs on 1300m attitude.
Including the Mt Field summit you would need 7,5h.
- Night Wildlife Experience
Behind the Visitor centre there is a little part to the Russell Falls where you can see glow worms along the stone.
Also other animals can be watched during the darkness here.
Dover – Southeast Coast
If you have enough time you can pass Hobart and visit the southeast coast with Bruny Island and the Huon Valley.
With the car it takes you 4h to go down. In the Huon Valley there are not so many campgrounds.
There is one in Huonville at the beginning or further down in Dover or Southport.
Dover itself and Southport has nothing to offer. Dover is a good place to spend the night before going to the Hartz Mountain area
Hartz Mountain National Park
This Mountain has also a gravel road which is around 8km long.
But it can be driven also with a Camper, because the road is also taken by the Log Trucks – so quite wide and good in shape.
CAMPING:
- As mentioned there are no campgrounds in this area.
- There are some possibilities for free camping, also at the Harth Mountain directly.
- There is also a small spot near the Tahune Forest Airwalk
- In Franklin there is a nice 8$ spot you can stay – the below Franklin
- In Dover, Huonville and Southport are the official campgrounds
HOTEL:
- Also no motels in the Hartz Mountain area. But in all villages around you find a lot of possibilities to stay the night over.
FOOD:
- Same like the motels. Nothing directly in the park but lot around the small towns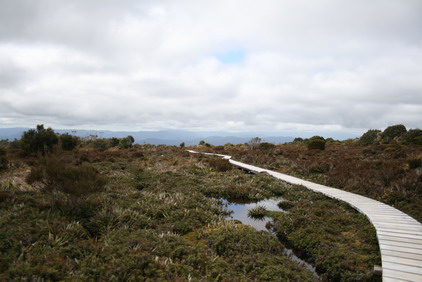 WHAT to DO:
Take one of the shor easy tracks
Go to the peak of the Mt. Hartz on 1250m. This is a relatively easy alpine track with some boulder climbing.
This is the shortest track to such a high Mountain within only 3h return walk. Here the GPX data as download
This park wants to bring you a little bit closer to the forest area around. There is also an Airwalk 40m high running over the trees.
Nothing spectacular but quite nice to do. In the park you also have some other sort walks and also some hanging bridges over the river.
But the price for 24$ per person is a little high.
The park ticket centre is closing at 5pm The gates to the parking lot at 5.45.
Which means, if you come 5 past 5 and you hurry, you can make the Airwalk for free. Time is sufficient for this.
Franklin – Southeast Coast
Franklin was a very good stop after the Mt Hartz tour. There is an 8$ camping spot with toilets and dumping station. The best is the location to the Franklin Tavern. A very cool place with excellent food. Friday you have live music with all the locals. There is also a Pizza beside where the youth is hanging around and playing billiard. Either place is a really nice place to spend the evening. Check under www.franklintavern.com
Bruny Island
Bruny Island can only be accessed via the ferry which coast 28$ return. There are a lot of roads which are unsealed but ok for driving with a camper.
For Ferry Schedules and more visit: www.bruny.com.au/bruny-island-info.htm
Free maps to download are here: http://www.brunyisland.net.au/Downloads/downloads.html
CAMPING:
- There is only one official campground. James Cook Holiday camp - sounds great but it's not such bad, just ok I would say.
- There are much nicer spots to camp. Check the Bruny map and you see the free camping spot around the island.
HOTEL:
- Lots of spots can be found here. In summer you must make a reservation.
check this webpage': http://www.brunyisland.net/
FOOD:
- There are not so many places around. Some cafes and bars in the small villages.
There is a local restaurant/bar in Alonnah called the Bruni Hotel. You get really go food here with an excellent beach view.
Also some places to site outside and enjoy the waterfront panorama.
WHAT to DO:
Bruny Island is one of the main vacantion sport around Hobart. With its nice and long beaches it's ideal for families.
But also for surfing, fishing, hiking or just relaxing it's a nice spot to be.
For a whole list what to do check: http://www.bruny.com.au/bruny-activities.htm
BUT be aware that the street are mostly unsealed, and some are not makeable with a Camper.
Also the road to the Lighthouse it unsealed, which makes it a long was to go.
If you go there also stay there at the free campground and make one of the beautiful hikes.
- Surfing is one big thing to do here. At the lonely Cloudy Bay you can meet the local surfers with its free camp side just 100m away.
- Hiking is perfect and easy.
near the lighthouse there is a long but easy 5h roundtrip
Fluted Cape is the most famous Hike 1,5h roundtrip. Here the GPX data as download
And many more: check this excellent page:
http://www.brunyisland.net.au/Walks/brunywalks.html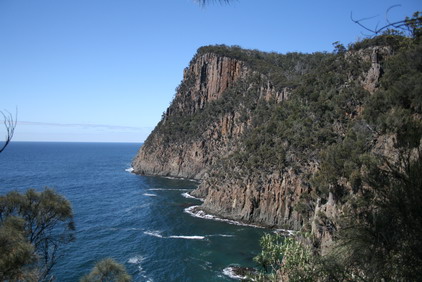 The Fluted Cape