Welcome to the Franconian Swiss
Die Fränkische Schweiz, or the Franconian Switzerland, was given its name by Romantic artists and poets who were captivated by its charm. The entire region is a nature park and over 4,000km of marked footpaths lead through a land of contrasts.
It is one of the most popular holiday areas in Germany and most important, has the highest denistiy of beer breweries in the world (see also my page about beer)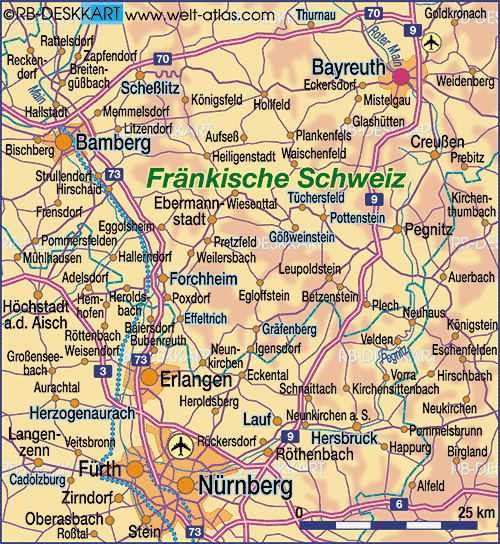 To learn the most basic facts about this area have a look at the quite good Wikipedia page here: http://en.wikipedia.org/wiki/Little_Switzerland_(Germany)
Here some usefull Links for the Franconian Swiss in generall:
Romantic rivers, bizarre rocks, enchanting caves and medieval castles
very good PDFs as a free donwload: Hiking, Breweries, Camping…
Information about Nürnberg from the Lonnly planet as PDF
WHAT to DO:
Nearly every little village is a typical franconian place and nice to visit. The main city is Bamberg which is a very beautifull city with its castles, churches and breweries. A must to visit if you will be around here.
The official tourist homepage is in all languages and has a lot of usefull information:
Official Bamberg  and here a PDF of the District of Bamberg
Most popular small villages in the Franconian Swiss:
- Pottenstein
- Gössweinstein
- Ebermannstadt
- Aufsess
- Behringersmühle
- Waischenfeld
Mysterious caves

Over 1,000 small and large caves lurk beneath the pleasant green surface of the land, waiting to entice passers-by into a realm of mystery. The three best known caves, the Binghöhle, the Sophienhöhle and the Teufelshöhle (Devil's Cave), display amazing stalactitic rock formations. These intricate pagoda-like pillars show nature's craftsmanship at its finest, and the mixing of minerals, soot and clay with the limestone rock has created wonderful colour variations ranging from black to white.
Here you find a Map where you can select the different caves:
http://www.naturerlebnis-fs.de/Tipps/hoehlen.html
Teufelshöhle (Devil's Cave)

The most popular and largest cave at 1.5 km/a mile long is the Teufelshöhle (Devil's Cave), Forchheimer Straße 1, Pottenstein, tel 09243-208. The temperature inside the cave is a constant 9°C/48°F with a humidity of 95%. As a result, visitors are well advised to bring jackets even in  summer.
A therapeutic center for rehabilitation of lung diseases is inside the cave – €5 to sit, relax, and breathe for two hours. Three-week courses are the norm.
The Teufelshöhle is open from Easter to October, daily from 9 am to 5 pm and from November to Easter only on Tuesday and weekends from 10 am to 3 pm. Admission is €3.50 and include the compulsory, one hour guided tour.
From May to September, several concerts are held in the Teufelshöhle (Devil's Cave). The emphasis is on classical music but plays and more modern music are also performed.
Binghöhle Caves

The Binghöhle, Streitberg, tel 09196-19433, discovered in 1905, has the largest stalactite gallery in Germany – nature has been at work here for around 5 million years. The cave is around 400 m/1,312 ft long and the guided tour takes around 30 minutes. Opening hours are daily from April to October from 9 am to 5 pm. Admission is €3.
The Binghöhle is a few minutes walk from the Dorfplatz parking lot in Streitberg.
Sophienhöhle Caves

The Sophienhöhle, Rabenstein has been known since the 15th century but the best parts were only discovered in 1833. Its three chambers are in total a lmost 500 m/1,640 ft long. Despite its popularity, it remained one of the best-preserved and most impressive caves in Germany. Opening hours are April to October from Tuesday to Sunday from 10:30 am to 5 pm with tours every half hour. Admission is €3.50. On Saturday nights, a multimedia sound and light display is staged between 6 and 8 pm. During this time visitors can roam at will without tour – admission is €6.50.
The Sophienhöhle is a 15-minute walk from the parking lot of Burg Rabenstein.
Guided Cave Tours
Guided tours to smaller and lesser known caves are arranged most Tuesdays during summer by Aktiv Reisen, Forchheimer Straße 14, 91346 Muggendorf, tel 09196-998-566. Expect to get dirty – bring own spare clothes, all other equipment are supplied.
Another good address for guided tours is Dornhoerfer.net
Castles
About 170 castles were once strewn across the countryside, although all that remains of many are a few scattered stones. Both the Neideck tower, ancestral home of the mighty Schlüsselberg family, and Streitberg castle on the opposite side of the valley, were destroyed by war during the 16th century. All that is left of the two castles are lonely ruins offering picturesque views of the Wiesent valley below.
The Romantic Castle Route
Forchheim and Franconian Switzerland are part of Europe's Romantic "Castle Route" which connects 70 castles and palaces between Mannheim and Prague. These are the castles and palaces that you can visit along the way: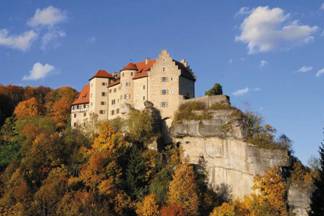 Here you can find a list of castle sorted by the name of the village
http://www.historisches-franken.de/revue/beginn.htm
…or some photo examples with the related links.
or this list of all castle and ruines of the area with location (in german only)
Liste der Burgen und Schlösser in der Fränkischen Schweiz
and here with a map location of all castles
http://www.naturerlebnis-fs.de/Tipps/schloss_burg_ruine.html
The most know and famous castles are:
- Ruine Neideck (nice hike up there)
- Burg Pottenstein (can be visit) official PDF
  Castle Pottenstein information
- Castle Rabenstein (can be visit) all information
- Burg Gössweinstein (can be visit)
- Schloss Greifenstein (can be visit)
Beer, Breweries and more

for these information please have a look at my beer section.
The Beer walks and Beecellars

If long hikes begin to pall, the Franconian Switzerland has one more trick up its sleeve. No fewer than seventy two small breweries exist in the area, each producing its own distinctive beer. Special planned walks from brewery to brewery combine attractive landscapes with a chance to taste delicious local drinks. And if beer even loses its pull, there is always the local schnapps. As the biggest sweet cherry-producing area of the EU, and home to apple, pear and plum orchards, virtually every household makes its own schnapps. What better way to keep off the cold in the winter, or perk up the spirits after a long walk?
http://www.wanderkompass.de/fernwanderweg/bayern/frankenweg.html
Kleiner Restaurant und Biergartenführer
List of Beergardens around Bamberg
Brauereiwanderung
- World Record Aufsess Beer Hike (in english)
- Brauerei zu Brauerei im Ahorntal
- Brauereiwanderung von Waischenfeld nach Aufseß
…and what else to do
Kajacing & Kanuing at the Wiesent
My personal highlight is kanuing on the Wiesent – the small river which flows through the main valley of the franconian swiss. There are some places you can rent Kajacs and Kanus. Here one of the biggest one: Renting Kajacs and Kanus or Active Reisen
Clilmbing
The Franconian Swiss is worldfamous for it's hugh climbing areas. Nearly everywhere are preparted routes in all different levels and lengths. You can get a lot of books about all the routes in many stores.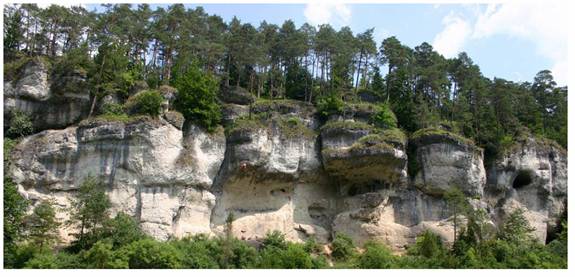 Also you have the possibility to book a guided climbing tour, also as a beginner:
http://www.aktiv-reisen.com/e-klettern.htm
http://www.dornhoefer.net/leinenlos/cms/php/climbing-and-rappelling.48.html
A short overview of a climbing map of the area can be downloaded here
The Levi-Strauss-Museum in Buttenheim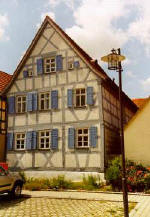 Everybody knows them, everybody wears them - Jeans. The Franconian Löb Strauss made them world famous - and into a cult object. Levi's! Levi, as he called himself later, was born in Buttenheim and emigrated to America. Re-live his life in his renovated birthplace: From being the son of a poor Franconian traveling salesman he went on to head his business in San Francisco. Learn more about the development of the famous pants; from the "waist overalls" of California's gold diggers to the "vintage jeans" collection Katins/Depken. Discover Jeans & Cult through the decades.
Bordering on Regnitztal, Buttenheim - first mentioned in 1017 - is one of the gateway towns of Franconian Switzerland. An ideal staring point for hiking tours around the beautiful surroundings, and for road trips to Bamberg, Forchheim, etc. Sights: The Parish Church of Buttenheim (Michael Küchel), the Palace of Buttenheim, Schießberg Hill with it's look-out tower, the Curia Church of Gunzendorf, Senftenberg Chappel, Wooden Frame - Ensemble and climbing park of Frankendorf.
Here is the official link to the museum: http://www.levi-strauss-museum.de/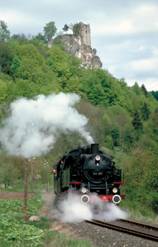 Sommerrodelbahn Pottenstein
Something you shouldn't miss. All time a year you can down this Bobsled. Near the Devils cave near Pottenstein you can combine this two cool events.
http://www.fraenkische-schweiz.com/sport/sommerrodelbahn.html
Take the train through the Frankonian Valey
There is a old track going from Ebermannstadt to Behringsersmühle. With old museum trains you can cruise through the beautifull Wiesent Valley. For a detailed schedule and all other information click here: http://www.dfs.ebermannstadt.de/index_en.htm
Familiy attraction – Cowboys and Knights